Thales SESO from Aix to Provence (France), realized for KARI (South Korea) the manufacturing of all the mirrors of the telescopes of their earth observation satellite (5 mirrors, 2 flight models). In these activities was also included the mechanical design, the manufacturing and the mounting of the attachment flexures between the mirrors, the integration on the bench in CFRP (Carbon Fiber Reinforced Plastics) and the tests of environment of 5 mirrors.
The optical design features a Korsch-type telescope with 5 mirrors, as presented. It includes:
– An on-axis Cassegrain telescope with a primary mirror (M1 concave) and a secondary mirror (M2 convex)
– A tertiary off-axis mirror (M3 concave off-axis)
– An on-axis M4 aspherical concave mirror
– A folding flat mirror (M5), for reasons of overall volume limitations.
https://directory.eoportal.org/web/eoportal/satellite-missions/k/kompsat-3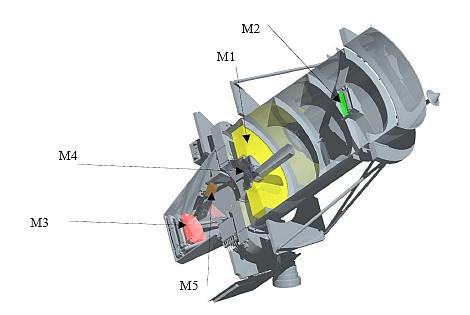 Cross-section of the optical system (image credit: Thales SESO)